Spanish Bluebells
Hyacinthoides hispanica 'Excelsior'
Hardy in USDA zones 3a to 8b in the South or 10b on the West Coast.
When to Plant
Delivery & Planting Times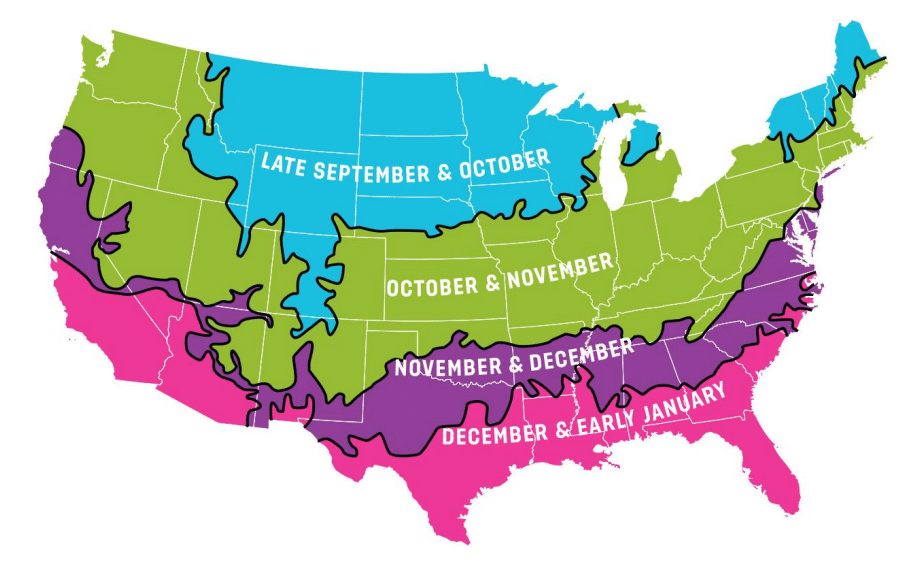 Spring-flowering bulbs must be planted in the fall. They need cool soil to make roots before the onset of winter. Cool fall weather arrives at different times from north to south and from high elevations to low.
Please note that the temperature of the soil lags behind the air temperature. You can generally plant later than the windows provided in this map. As long as the ground is not frozen, you can still plant.
The amaryllis are the last bulbs to arrive in the Colorblends warehouse. They are typically available for delivery toward the end of October. They can be planted upon receipt. They can also be stored in a cool, dry location for several weeks. Please note: Amaryllis bulbs may start growing before they are potted. If you decide to delay planting, open the bag(s) and set the bulbs on their roots so that the flower stems can grow straight up. And don't forget to mark your calendar or set a reminder to pot the bulbs.
Paperwhites can be potted upon receipt. They can also be stored in a cool, dry location for many weeks. Many people pot their bulbs in batches, one after the next, to keep the fragrance coming. It's not unusual for paperwhites to begin to sprout while in storage. The shoots emerge an inch or two and then stop, as though the bulbs realize they are getting ahead of themselves. The shoots often curl around the bulbs, pointing opposite gravity. After the bulbs are potted, the shoots straighten up.
Spanish Bluebells
Hyacinthoides hispanica 'Excelsior'
Specifications
A shade-tolerant plant that bears spikes of lightly fragrant, lavender-blue, bell-shaped flowers toward the end of the bulb season. Ideal for naturalizing below shade trees. Grows well North and South — California, too. Bulbs are extra large.
Item #
6028
Height
14—18

inches

Sunlight
Full or Part
Soil
Well drained
Flower Color
Lavender-Blue
Bulb Size
10cm+

Bulb size is determined by the circumference around the largest part of the bulb. Colorblends only delivers top size bulbs. Large bulbs produce more or larger flowers than small bulbs.

USDA Zones
3a—8b

Hardy in USDA zones 3a to 8b in the South or 10b on the West Coast.

Bloom Time
Late
Bloom times are relative within the spring bulb season, which varies from place to place and year to year. They are intended to help you plan a sequence of bloom from Very Early season to Very Late season. About two weeks separate Early from Mid and Mid from Late. The start and duration of bloom is heavily dependent on the weather. Warm temperatures speed up growth and flowering; cold temperatures slow them down.
Planting Instructions
Planting Instructions
Adaptable bulbs that grow in full sun or shade (as long as it's not too dense) and in any well-drained soil that does not dry out completely in summer. In the wild, they grow on the woodland floor, forming dense colonies in the high shade of deciduous trees. The same effect can be had in the landscape if the seeds are allowed to ripen and fall at their parents' feet.
| | |
| --- | --- |
| Depth of Planting Hole | 4 inches |
| Spacing | 4 inches apart |
Education Center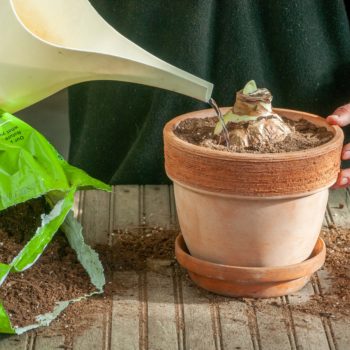 If you are used to planting outdoors, you may be out of practice potting. Don't worry - we have you covered.
Read More
Are deer a problem for you or your clients? Colorblends offers a complete list of deer-resistant bulbs.
Read More