Spear Head Spade 40-inch
Specifications
Spear Head Spades were designed for digging in rocky, heavy, compacted, and/or root-filled soils. Their narrow blades also make them ideal for planting bulbs, especially in unprepared soil, where the goal is to remove just enough soil to get the bulbs in without knocking yourself out. Excellent for planting daffodils and clusters of small bulbs. Also useful for many other gardening tasks. Carbon manganese steel blades, steel-reinforced fiberglass handles. Lightweight, but built to last.
This is the foot-powered version, with a wide step that allows you to apply maximum downward pressure. Great for planting big Colorblends daffodil bulbs. D-grip. Weighs just 4 lb.
Unconditionally guaranteed.
Made in USA.
Overall Length: 40″
Blade Width: 9″
Education Center
You've been hoping for them. But still, Snowdrops always sneak up on you. Seems as though the snow has scarcely melted (and more might still come) when the Snowdrops stage their brave crusade against winter.
Read More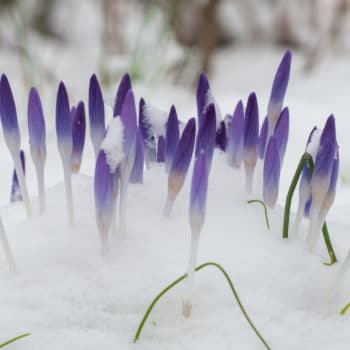 For all our color-starved neighbors and friends, Tommies are the cure. They need only the slightest hope of sun, and whammo! They are popping up and performing. Some snow might greet them, but a dusting is fine. Tommies soldier on.
Read More