Step-on Daffodil Planter
Specifications
This fearsome thing looks like a medieval weapon. In fact, it's a great way to get large bulbs into (or out of) unprepared ground—a lawn or a meadow, for example, or at the edge of woods. It is a rugged tool made of aircraft alloy steel. A foot pad on the back allows you to put your weight into driving the 12-gauge, semi-circular blade into the soil.
If the tool is pushed into the ground once, rotated 180 degrees, and then pushed into the ground a second time, it can be used to pry up a core of soil 3 inches in diameter and 6 inches or more deep, just the right size for a hefty Colorblends daffodil. Can also be used as a shovel. You can speed up planting and save yourself much stooping if you engage a coworker, an employee, or a friend to drop bulbs into a hole you've made while you move on to dig the next.
Unconditionally guaranteed.
Made in USA.
Overall Length: 39″
Blade length: 11½"
Blade Width: 3″
Education Center
How do you know it is time to plant bulbs? Here are some helpful hints.
Read More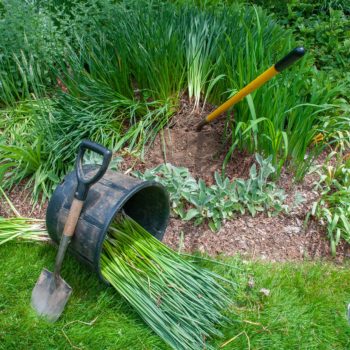 The ideal time to move or divide daffodils is when the foliage has collapsed and has turned mostly but not completely brown. For most daffodils, this time comes in late spring or early summer.
Read More