Hardy in USDA zones 4a to 7b in the South or 10b on the West Coast.
When to Plant
Delivery & Planting Times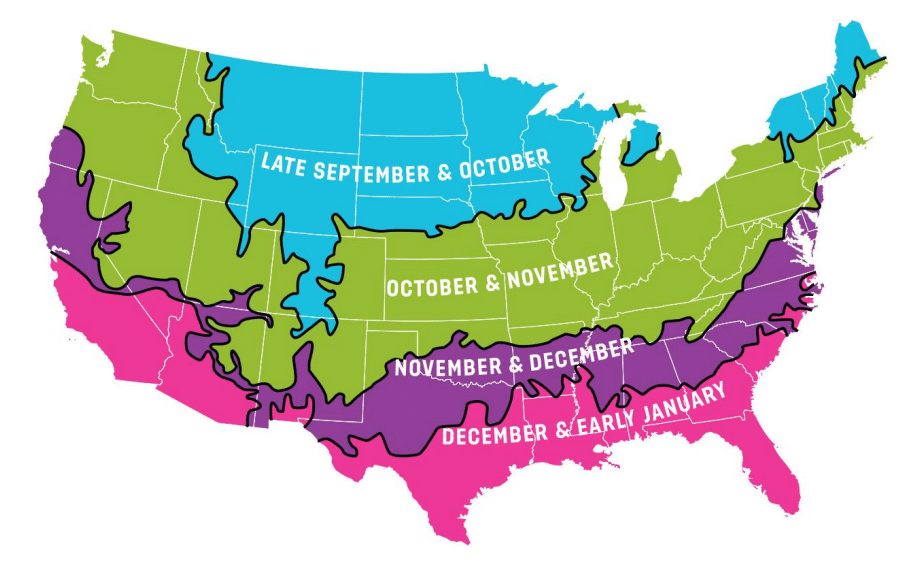 Spring-flowering bulbs must be planted in the fall. They need cool soil to make roots before the onset of winter. Cool fall weather arrives at different times from north to south and from high elevations to low.
Please note that the temperature of the soil lags behind the air temperature. You can generally plant later than the windows provided in this map. As long as the ground is not frozen, you can still plant.
The amaryllis are the last bulbs to arrive in the Colorblends warehouse. They are typically available for delivery toward the end of October. They can be planted upon receipt. They can also be stored in a cool, dry location for several weeks. Please note: Amaryllis bulbs may start growing before they are potted. If you decide to delay planting, open the bag(s) and set the bulbs on their roots so that the flower stems can grow straight up. And don't forget to mark your calendar or set a reminder to pot the bulbs.
Paperwhites can be potted upon receipt. They can also be stored in a cool, dry location for many weeks. Many people pot their bulbs in batches, one after the next, to keep the fragrance coming. It's not unusual for paperwhites to begin to sprout while in storage. The shoots emerge an inch or two and then stop, as though the bulbs realize they are getting ahead of themselves. The shoots often curl around the bulbs, pointing opposite gravity. After the bulbs are potted, the shoots straighten up.
Allium Globemaster
Specifications
The most spectacular of all the alliums. Globemaster bears 8-inch orbs of lilac-pink flowers on tall stout stems. Because the flowers are sterile, they last a long time. An outstanding cut flower, fresh or dried.
Deer Resistant
Note: Alliums are resistant to deer, but rodents such as voles and gophers may eat the bulbs.
Item #
6019
Height
34—38

inches

Sunlight
Full (6+ hours sun per day)
Soil
Well drained
Flower Color
Lilac-Pink
Bulb Size
20–24cm

Bulb size is determined by the circumference around the largest part of the bulb. Colorblends only delivers top size bulbs. Large bulbs produce more or larger flowers than small bulbs.

USDA Zones
4a—7b

Hardy in USDA zones 4a to 7b in the South or 10b on the West Coast.

Bloom Time
Very Late
Bloom times are relative within the spring bulb season, which varies from place to place and year to year. They are intended to help you plan a sequence of bloom from Very Early season to Very Late season. About two weeks separate Early from Mid and Mid from Late. The start and duration of bloom is heavily dependent on the weather. Warm temperatures speed up growth and flowering; cold temperatures slow them down.
Planting Instructions
Planting Instructions
Plant in full sun or light shade and well-drained soil. Sandy soil is ideal. Allium leaves begin to yellow by the time the flowers open. You can disguise the foliage by planting large alliums behind or among bushy perennials or shrubs, and small alliums among low-growing perennials. The flower heads of Globemaster and Christophii remain attractive for a time even after the color drains away. They can be left in the garden or cut and dried for use in indoor arrangements.
| | |
| --- | --- |
| Depth of Planting Hole | 7 inches |
| Spacing | 10 inches apart |
Education Center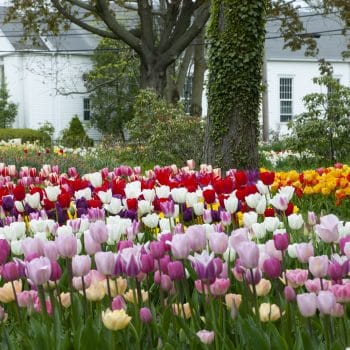 Bulbs are plants, with a difference. Here you will find a brief introduction to bulbs and how to plant and care for them.
Read More
You already know what bulbs can do in spring. But what you might be missing is all their feats during the rest of the growing season.
Read More