Crocreation™
This cheerful blend of purple and golden yellow crocuses will brighten your early spring landscape. Plant them under trees or shrubs, or in the lawn (but be sure to let the leaves yellow before you start mowing). Introduced 2000
| Quantity | Price per bulb |
| --- | --- |
| 100 to 900 | $ 0.32 |
| 1000 to 4900 | $ 0.26 |
| 5000 or more | $ 0.24 |
| | |
| --- | --- |
| Item # | 5021 |
| Synonym | Dutch Crocus |
| Bulb Size | 9–10cm |
| Blend % | 50/50 |
| Catalog Page (2021) | 127 |
Flower Color
Purple and Yellow
Height
4–6

inches

Sunlight
Full or Part
Soil
Well drained
Good for Naturalizing
✓
| | |
| --- | --- |
| Depth of Planting Hole | 3 inches |
| Spacing | 3 inches apart |
| Density | 8-9 per sq. ft. |
Bulb Calculator
To find the number of bulbs you need, enter the square footage of the planting area in the box below.
Need help figuring square footage? See How Many Bulbs Do I Need.
Planting Instructions
Plant in full sun or partial shade and well-drained soil. For earliest bloom, put crocuses in a sunny, protected location—against the south-facing foundation of a house, for example. Can be planted in a lawn if you're willing to hold off on mowing until the foliage begins to yellow.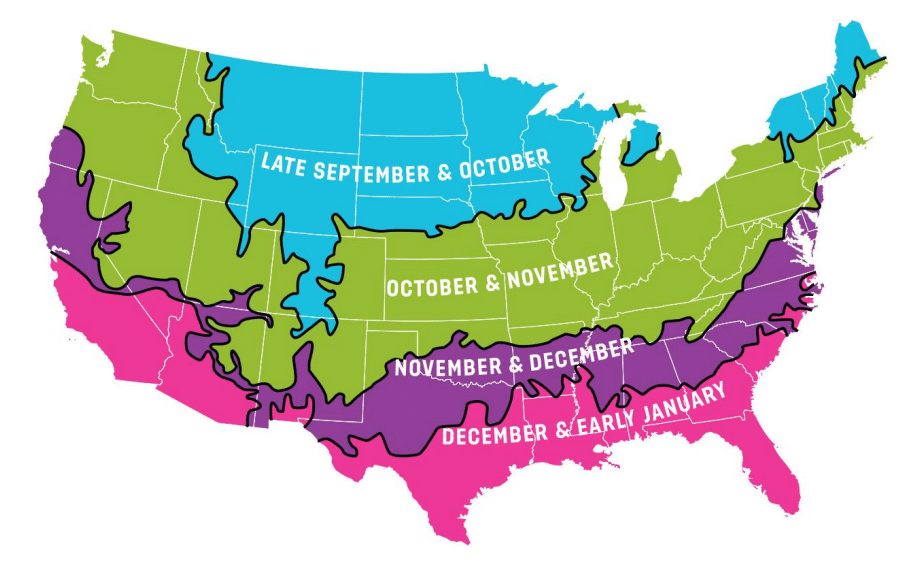 Spring-flowering bulbs must be planted in the fall. They need cool soil to make roots before the onset of winter. Cool fall weather arrives at different times from north to south and from high elevations to low.
Please note that the temperature of the soil lags behind the air temperature. You can generally plant later than the windows provided in this map. As long as the ground is not frozen, you can still plant.
The amaryllis are the last bulbs to arrive in the Colorblends warehouse. They are typically available for delivery toward the end of October. They can be planted upon receipt. They can also be stored in a cool, dry location for several weeks. Please note: Amaryllis bulbs may start growing before they are potted. If you decide to delay planting, open the bag(s) and set the bulbs on their roots so that the flower stems can grow straight up. And don't forget to mark your calendar or set a reminder to pot the bulbs.
Paperwhites can be potted upon receipt. They can also be stored in a cool, dry location for many weeks. Many people pot their bulbs in batches, one after the next, to keep the fragrance coming. It's not unusual for paperwhites to begin to sprout while in storage. The shoots emerge an inch or two and then stop, as though the bulbs realize they are getting ahead of themselves. The shoots often curl around the bulbs, pointing opposite gravity. After the bulbs are potted, the shoots straighten up.