Spear Head Spade 30-inch
Specifications
Spear Head Spades were designed for digging in rocky, heavy, compacted, and/or root-filled soils. Their narrow blades also make them ideal for planting bulbs, especially in unprepared soil, where the goal is to remove just enough soil to get the bulbs in without knocking yourself out. Excellent for planting daffodils and clusters of small bulbs. Also useful for many other gardening tasks. Carbon manganese steel blades, steel-reinforced fiberglass handles. Lightweight, but built to last.
The 30-inch version is for hand-to-hand combat with difficult soil. Just right for tight spaces. Think of it as a shoehorn for miniature daffodils and specialty bulbs. No less valuable for planting 4-inch annuals in and around daffodils to fill the gap as the leaves finally lie down and close up shop for summer. D-grip. Weighs in at 2 lb.
Unconditionally guaranteed.
Made in USA.
Overall Length: 30″
Blade Width: 6″
Education Center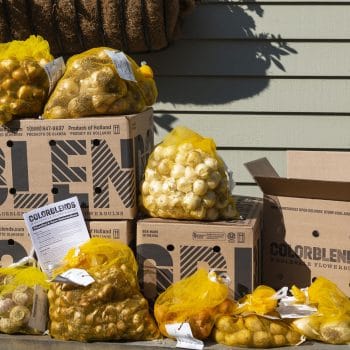 Keep your newly arrived bulbs cool and dry, and get them into the ground as soon as possible.
Read More
To encourage perennial tulips to bloom again in future years, we recommend that you do the following...
Read More