Hardy in USDA zones 3a to 8b in the South or 10b on the West Coast. Prechill in zones 7b and warmer in the South, Southwest, and California.
When to Plant
Delivery & Planting Times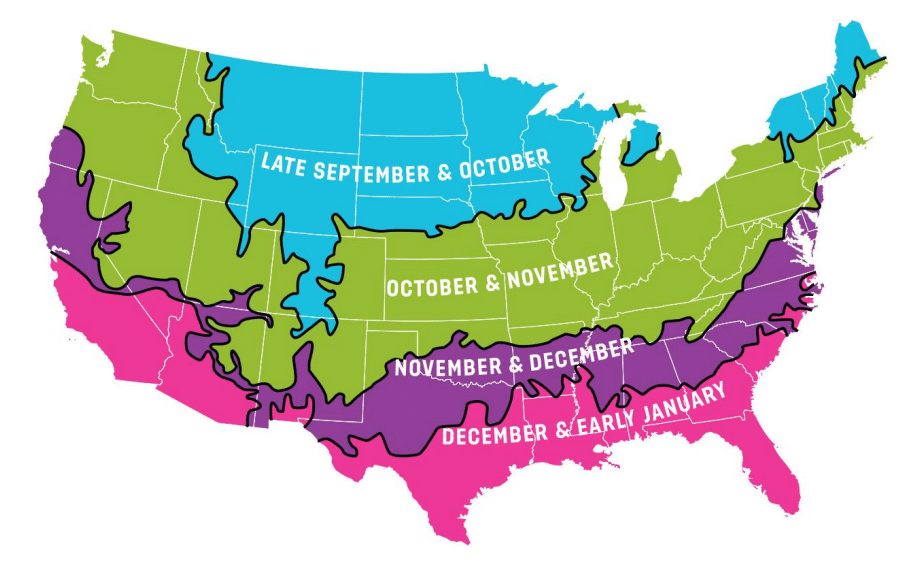 Spring-flowering bulbs must be planted in the fall. They need cool soil to make roots before the onset of winter. Cool fall weather arrives at different times from north to south and from high elevations to low.
Please note that the temperature of the soil lags behind the air temperature. You can generally plant later than the windows provided in this map. As long as the ground is not frozen, you can still plant.
20% OFF SALE WHILE SUPPLIES LAST
Amazon
Specifications
A planting of this striking tulip resembles a flock of tropical birds. The arching orange petals, which look as though they have been dipped in yellow paint, flutter over purple-striped foliage. When the sun hits them, they glow.
Item #
1010
Height
16—18

inches

Sunlight
Full (6+ hours sun per day)
Soil
Well drained
Flower Color
Orange with Yellow
Bulb Size
12cm+

Bulb size is determined by the circumference around the largest part of the bulb. Colorblends only delivers top size bulbs. Large bulbs produce more or larger flowers than small bulbs.

USDA Zones
3a—8b

Hardy in USDA zones 3a to 8b in the South or 10b on the West Coast. Prechill in zones 7b and warmer in the South, Southwest, and California.

Bloom Time
Early
Bloom times are relative within the spring bulb season, which varies from place to place and year to year. They are intended to help you plan a sequence of bloom from Very Early season to Very Late season. About two weeks separate Early from Mid and Mid from Late. The start and duration of bloom is heavily dependent on the weather. Warm temperatures speed up growth and flowering; cold temperatures slow them down.
Planting Instructions
Planting Instructions
Tulips perform best in full sun but will tolerate a bit of shade (some afternoon shade will prolong flower life, especially in the South). They require well-drained soil. Treat tulips as annuals if you want a perfect display: After they flower, lift and discard the bulbs and replant fresh ones in the fall. In a less formal situation, you can leave the bulbs in place. The flowers will be uneven in size and height and generally much fewer in number, but that can have its own charm.
To encourage tulips to bloom again in future years we recommend that you:
Remove the spent flowers as soon as the bulbs finish blooming. Snapping off the top 3 inches of the flower stem prevents seed formation and focuses energy instead on bulb growth.
Allow the foliage to wither completely before you remove it.
Avoid summer irrigation. Tulips prefer to be dry during their dormancy.
| | |
| --- | --- |
| Depth of Planting Hole | 5 inches |
| Spacing | 4 inches apart |
Bulb Calculator
To find the number of bulbs you need, enter the square footage of the planting area in the box below.
Education Center
Winter cold is essential to the life cycle of bulbs.
Read More
Daffodils use their lenticular stems and petals that fold into a cylinder to withstand strong winds.
Read More